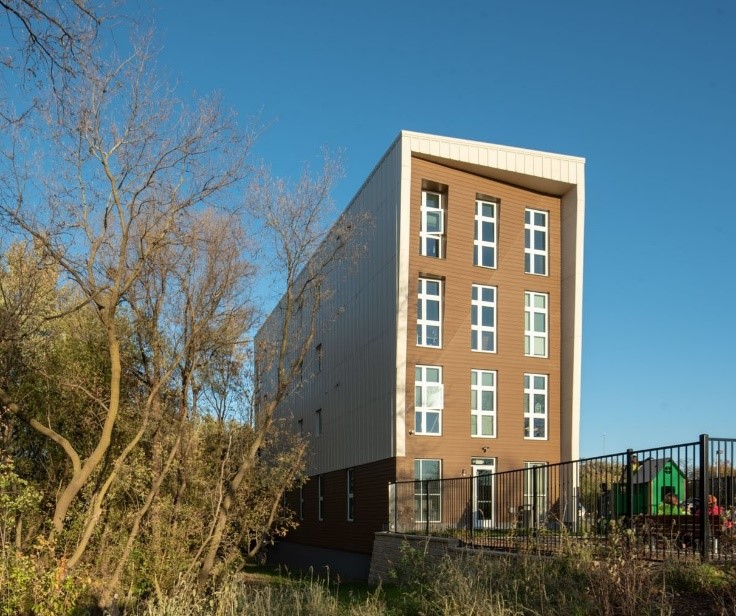 In 2015 Heartland Housing and YWCA of Madison answered the city's second RFP as part of the Homeless Services Consortium's Community Plan to Prevent and End Homelessness in Dane County. The plan takes a "Housing First" approach, placing "homeless families and individuals in permanent housing as quickly as possible," then providing supportive services to support growth, quality of life, and self-sufficiency. Valerio Dewalt Train joined this design team and as an experienced contributor to the creation of multi-family housing.
Engagement of community partners played a crucial role in making sure that we were getting this project right. The team worked closely with the local Alderman to participate in public meetings, and with citizens of the YWCA homeless shelter to better understand personal challenges.
The 1.3 acre project site is located within an established middle-class neighborhood with easy-access to community resources. While the shape of the building is influenced by the natural site restrictions and required codes, the form and material attributes emulate the characteristics of a typical Wisconsin neighborhood: pitched rooflines, clapboard singing, window shape, and color palette.
The 60,000 sf building is organized around the main entry and support staff offices. The location of these services and staff front and center, aim to forge friendly relationships and encourage engagement. The main circulation stair is designed to promote health and community amongst residents, and each of the floors are distinguished through playfully colored finishes. The 45 apartments range from 2-4 bedrooms. Large windows let light into the living spaces and fully equipped kitchens are open in plan. In-unit appliances, sustainable materials, and high-quality finishes provide the comfort and durability that a family can be proud to call their own. Building amenities like a fitness center, computer lab, bike storage, and library act as a continuation of this living space.
City of Madison – development of this property was undertaken at City of Madison's request and is part of the city's effort to create 250 units of permanent supportive housing for people experiencing homelessness.
Project Team
Stakeholders
Dane County Homeless Services Consortium (HSC) – wrote the Community Plan to Prevent and End Homelessness in Dane County, Wisconsin (2006)
United Way – HSC member, financial supporter, and resource advocate
Community Development Division (CDD) – allocates funding and issued RFPs
Common Council, District 9 Alderman, Paul Skidmore
District 9 Residents and Community Members
Heartland Housing – Developer & Property Manager
On-Site Social Service Provider:
YWCA (July 2018 – March 2019)
YWCA Homeless Research Groups
The Road Home (Interim March 2019 – August 2019)
Sankofa Behavioral and Community Health – (August 2019 – Current)
Design Team
Heartland Housing – Developer & Property Manager
Michael Goldberg, Executive Director
Valerio Dewalt Train – Architects & Interior Design
David Jennerjahn, Design Principal
Brad Pausha, Project Manager
Chris Amt, Project Architect
Nina Cackovic, Project Designer
McGann Construction Inc. – General Contractor
Lucas Zick, Project Manager
Ayres Associates – Civil Engineering & Landscape Architect
Jacob Blue, Project Manager
Pierce Engineers, Inc. – Structural Engineer
Seth Pfeil, Project Manager
WMA Consulting Engineers – MEPFP Engineer