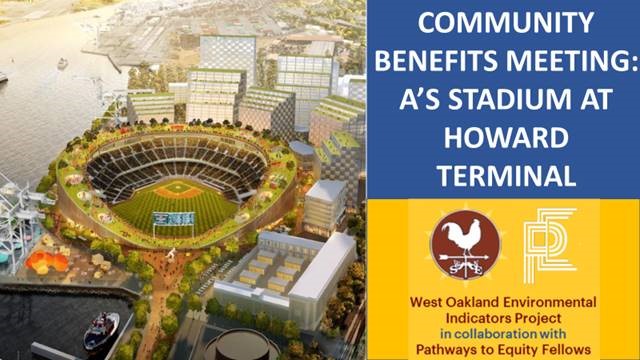 This project addresses issues of environmental justice with the West Oakland Environmental Indicators Project (WOEIP) to create a community benefits agreement in response to the development of the new Stadium for the Oakland A's in the West Oakland community. The goals of the project were to research CBA's, create an engagement for input from the community, and provide a list of informed benefits for WOEIP to bring to the table. WOEIP leveraged the design and planning skills of an interdisciplinary team to support community-centered negotiations for an equity-based CBA. The research document spanned issues of Climate Change Resilience, Air Quality, Infrastructure, Affordable Housing, Arts and Culture, and Career Pathways.
This collaboration is a project of Pathways to Equity, a leadership and team building training program with the ethos that uses a systems design approach to achieve equity as a foundation in all practices. Throughout this multi-year engagement with WOEIP, an interdisciplinary team of architects, designers and planners set aside their expectations of what a project "should" be, and respond to with what it needs to be. This has included slowing the process to respond to the immediacy of needs presented from Covid-19.
Getting at root causes of environmental injustice in communities such as West Oakland is a marathon, not sprint. And those who are closest to the issues that face communities such as West Oakland, are closest to the solutions. Disrupting systemic inequity takes time, and Pathways to Equity recognizes the need to slow down the design process in order to develop trust in a long-term commitment of co-creation.
Project Credits
Ms Margaret Gordon – community leader and co-director
Brian Beveridge – community leader and co-director
Taj Tashombe – Oakland A's Community Liaison
Pathways to Equity Fellows (Jillian Solomon – transportation consultant, Alicia Parker – planner, Jessica Jobe Sea – architect, Gina Bugiada – architect, Lucia Castello – architect)
Shalini Agrawal (co-director, Pathways to Equity)
Garrett Jacobs (co-director, Pathways to Equity)